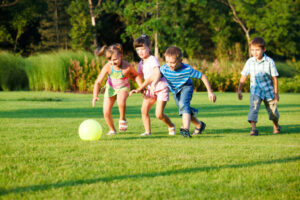 As we are all at home waiting out the virus, two of the most difficult things are making sure your children are keeping busy, and that you can stay in shape. Fortunately, we have a list of fun exercises that you and your children can do together. While it is difficult for us to help out parents since we are stuck at home too, trying to give you as much information as possible is the least we can do.
Exercising with your family is a great way to relieve stress together in this crazy time. Here are a few fun ones that you can do together:
Sit-ups-
A fun way to do the sit-ups with your kid would be to have them hold your feet or vice versa!
Jumping Jacks-
This is a fun one that the children would love to do along with you.
Planks-
There are a few fun ways to do planks. One option, is to have your youngest or smallest sit on your back and see how long you can go, or you can all do planks and see who can hold it for the longest!
Squats-
Squats are naturally easy for children to do, so most children will be able to do this one. A few options here are who can do the biggest squat, or who can do the most squats in a given period of time.
Obstacle course-
building an obstacle course is a fun activity that you kids will love. If you have space, this can keep them entertained for hours!
Burpees-
These are great if you and your children want a challenge! Start by jumping, then drop down, do a push-up, then jump back up again.
Yoga-
Yoga is another fun exercise to do with your children! There are plenty of places that you find online that will teach the poses. Not only is yoga good for you physically, but it is also a great way to relax in this stressful time!
No matter what exercise you choose, the whole point is that you are spending time with your kids, and you can keep in shape while staying home. This will help your family develop healthy exercise habits that you will continue once things start going back to normal!
Hopefully, this info has been helpful, and we would love to discuss everything Heritage Learning Center has to offer in more detail. For more information about early childhood development or education programs,  contact us as Heritage Learning Center in Mckinney, Texas today.