The holiday season often causes a significant increase in consumer buying through an array of special offers, discounts, and deals. Nonetheless,  finding a purposeful gift, especially for children who live in a world of disposable toys and trinkets can be a real challenge. Not to worry, we've assembled the following list of the educational gifts and toys that can make for the perfect Christmas or Birthday gift.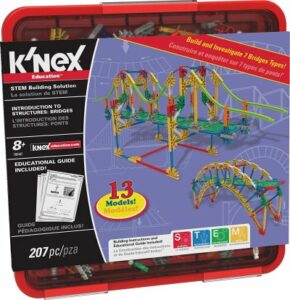 K'nex Education: Intro to Structures
K'nex assists children explore the history and function of structural design and architecture. K'nex allows children to participate in creative hands-on structure modeling exercises that help develop important inquiry-based thinking skills.
Periodic Table Playing Cards
Each regular playing card in the double pack includes an element from the periodic table, It's given atomic number, name in multiple languages, mass, category, melting point, boiling point, period, group, natural state, and common usages. No matter the exercise or card game you play, periodic table cards are a great learning aid.
Art 101 142-Piece Wood Art Set
This 142 piece art set is a perfect gift for both young aspiring artists and children who love to scribble and doodle. The deluxe wood case comes with an array of drawing and painting mediums, including pencils, crayons, pastels, and watercolor painting, making it a perfect gift to help children attain their creative potential.
Fujifilm QuickSnap Flash 400 Disposable 35mm Camera (Pack of 2)
Disposable cameras are a fun and easy way for children to develop an interest in photography. Disposable cameras come fully operational with preloaded film, batteries, and a flash. The durability, price point, and easy-to-use design make it a perfect camera for children. To develop the film, contact a local camera store, pharmacy, or retail stores such as WalMart.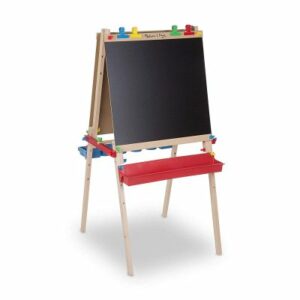 Melissa & Doug Deluxe Wooden Standing Art Easel 
A standing art easel provides a creative, screen-free play option for children of all ages. The art easel pack includes dry-erase board, chalkboard, locking paper roll holder, child-safe paper cutter, 4 easy-clip grips, and 2 large plastic trays. This easy to assemble item helps children develop fine motor skills and explore all their creative abilities.
National Geographic Break Open 10 Premium Geodes
This National Geographic Geodes Exploration kit includes goggles, detailed learning guides, and 2 display stands. Cracking open and examining geodes is a great hands-on experiment for mineralogy and geology enthusiasts of any age.
Elmer's Glue Deluxe Slime Starter Kit
The Elmer Galaxy Slime Starter Pack provides an opportunity for everyone to participate in some intergalactic fun. The starter kit comes with everything you need to experiment and explore the world of slime. Not to mention, the ingredients are all safe and non-toxic (washable formula).
Hopefully, the following tips and product recommendations come in handy in your search for the perfect educational gift. All of the products listed above can be found either on Amazon, other online shops or in large department stores.  For more information about early childhood education or purposeful learning tools, contact us as Heritage Learning Center in Mckinney, Texas today.