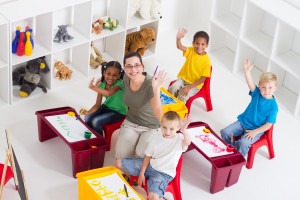 Early childhood education classes McKinney TX give children 18 months and older the tools they need to learn reading, math, writing and other academic subjects. Academic preparation, however, is just one part of the preschool experience. Students also learn life skills and receive reinforcement for some of the activities they've been introduced to at home. This includes learning to put away materials after a project, put on their own coats and hats, and set their own table for snacks.
Early Childhood Education Classes Mckinney TX: Assigning Classroom Tasks
Teachers should rotate tasks to introduce students to a variety of life skills. Children can help feed goldfish, distribute crayons, sweep the floor and be in charge of other tasks. As they help run the classroom daily and keep it in tip-top shape, they'll learn responsibility, teamwork, and take pride in a job well done. Kids can choose partners to help them, or pick a name out of a jar to find a helper. Working with a classmate helps kids learn empathy and social skills to prepare them for kindergarten and grade school.
By combining assigned tasks with activities initiated by students, every school day provides a proper balance of fun and learning.
Early Childhood Education Classes Mckinney TX: Cooking and Homemaking Skills
Cooking helps preschoolers learn about food and nutrition, and it gives them a chance to use basic math by counting teaspoons or cups.  Kids can prep for the real thing by "cooking" on a pretend kitchen set. They'll exercise their imagination while they mimic their at-home dinner routine. On a toy range, they'll stir soup, bake cookies, make up recipes, and serve imaginary food to their classmates.
Once kids have become accustomed to using toy ranges and refrigerators, they graduate to using the appliances as they assist a teacher or special cooking instructor in preparing a real snack. Any cooking class must be conducted with parents' approval. Parents should let the instructors know about children's food allergies and donate food or suggest recipes.
Children learn kitchen safety rules, and participate in opening packages, pouring liquids or powders into measuring cups and other simple tasks. They help serve the food, eat it with their classmates, and clean up afterwards. This gives kids a sense of accomplishment and takes some of the mystery out of how meals are prepared.
The early childhood education classes McKinney TX at Heritage Learning Center provides children 18 months and older with basic skills for successful living. Your child will learn about numbers, letters and colors and get practice at everyday social and creative skills. Give us a call today at 972.782.4464 to schedule a school tour.
[osky-citation keyword='Early Childhood Education Classes McKinney TX']Photo Credit: @DepositPhotos.com/ michaeljung