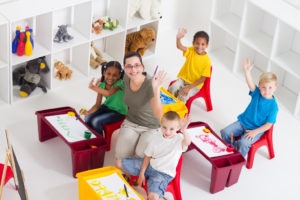 While regular checkups will help your child be physically and emotionally healthy, enrolling your child in early childhood education will help them be intellectually healthy. If you are a parent with a young child, you may be surprised by the benefits of preschool. Not only will preschool prepare your child for kindergarten, but it will also teach them important social skills they will need all through their life. Of course, the first day can be emotional for both you and your child. Using these tips, your child will be ready to start their first day of preschool.
Practice Makes Perfect
Spending some time to play with your child is important for bonding with one another, but playing together can also prepare your child for their first day of preschool. Consider setting up a classroom at your home and dressing/acting like a preschool teacher. Acting as your child's preschool teacher, read books, play games, and sing songs together in your "classroom" at home.
By playing school and practicing the first day of preschool at home, your child will feel more at ease when they enter their real classroom.
Pack a Bag
Your child will need to bring a few things to their first day of preschool. Depending on the early childhood education program you chose in McKinney TX, your child should include the following in their backpack:
Toddler-Aged Pencils and Crayons
Blanket
Kleenex
Change of Clothes – Be sure to include a change of clothes that are suitable for the current weather.
Snack
Lunch
Many children enjoy helping their parents shop and pack for their school supplies, so make sure to include your child in this task. Allow your child to choose their own pencils, crayons, blanket, and backpack. Make sure they pick out a favorite snack to bring on their first day, as well. If your child will be bringing their lunch from home, allow your child to be involved in packing their lunch bag, too.
Make Goodbyes Short and Sweet
When it is time to bring your child into the preschool classroom, you may feel uneasy about leaving them alone. In some situations, you may feel the need to linger inside the class and hover over your child. Unfortunately, your child will pick up on any anxiety you are feeling. If they sense anxiety from you, they will most likely develop the same feelings of stress and worry.
Make the drop-off process short and sweet. Walk your child in and give them a hug and kiss goodbye. Tell them to have a good day and then leave the classroom facility. In most cases, your child will be ready, willing, and comfortable enough to say their goodbyes and gather around to play with their new friends.
When your child is ready to begin early childhood education, contact the Heritage Learning Center in McKinney TX at (972) 782-4464.
[osky-citation keyword='Early Childhood Education McKinney TX']