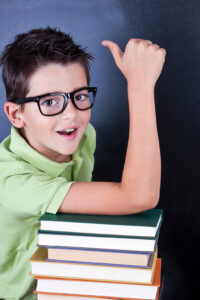 Choosing an appropriate book can be difficult for many children. It can be particularly challenging for children who have the skills to read beyond their grade level. Fourth-grade students who are advanced readers may be inclined to look for books with more mature content. While they may have the skills to read advanced books, doing so could be potentially problematic.
The following books are recommended by Bookopolis.com for advanced readers in the fourth grade. The stories are intriguing, captivating and inspire young people to consider the world in a context that is appropriate for their age. These books are also an excellent choice for adults; making them great options for parents and children who want to share in a read-aloud story.
The Alchemyst by Michael Scott
This is the first book in Michael Scott's series, The Secrets of the Immortal Nicholas Flamel. The story describes the encounters of Josh and Sophie Newman as they search for Kai, the extract of life.
Inkheart by Cornelia Funke
This is the first book in Cornelia Funke's trilogy, Inkheart. The story begins with Meggie's father reading aloud from a book entitled Inkheart. An evil ruler escapes the story and lands in their living room. Meggie becomes immersed in a type of adventure she has only read about in stories. She must learn to channel the powerful magic contained within the plot.
The Phantom Tollbooth by Norton Juster
A fantasy story full of humor and adventure, the Phantom Tollbooth is a story about Milo and Tock and their adventures in the Lands Beyond.
The Mysterious Benedict Society series by Trenton Lee Stewart
The Mysterious Benedict Society is also one in series. In this story, Trenton Lee Stewart details the escapades of four gifted children on a secret adventure to save the world.
Chasing Vermeer by Blue Balliett
Chasing Vermeer is a mystery story about two children in search of an art thief. The author uses a variety of puzzles to keep the reader engaged and advance the storyline.
Wonderstruck by Brian Selznick
In his book Wonderstruck, Brian Selznick utilizes a blend of pictures and words to detail two interwoven stories about his characters Ben and Rose and their adventures as they search for the truth about their families.
For more information on promoting reading and early childhood education classes in McKinney Tx, contact the Heritage Learning Center at 972-782-4464!
Heritage Learning Center | Early Childhood Education McKinney Tx | (972)-782-4464